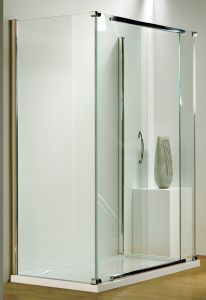 Kudos 1500 Infinite Sliding Enclosure
The Kudos Infinite Straight Sliding Door Enclosure combines the usefulness of 8mm toughened safety glass with a modern and sleek appearance that would fit in with both contemporary and traditional bathrooms.
With dynamic features such as a reversible opening door, roller bearings for a seamless movement and three dimensional adjustment, the practicality of this enclosure has been given great thought throughout in the design whilst maintaining its elegant appearance.
The Kudos Infinite 1500mm Straight Sliding Door Enclosure comes with Life Shield glass protection, avoiding any limescale/dirt buildup and helping maintain a spotless finish from day one.
This enclosure is also available in a twin door option. For more information on this product, please give us a call or visit us in store.