Legato
The Legato collection aims to impress with its abundant storage space, elegant shapes and immaculate coordination. Among its sophisticated features is the inclusion of dimmable LED lighting and bevelled edges. The handle free appearance highlights the minimalistic nature of the design, whilst bringing it to foreground in innovation, style and usability.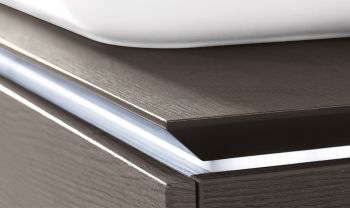 LED Lighting
The cleverly designed Legato worktops makes for a wide range of tailored options. With wonderfully refined detailing, such as the understated LED lighting and beautifully sloping edges, they truly give the illusion they are floating. The handle free appearance of the worktops further reduces complications, simply allowing the Legato collection to shine for its understated appeal. The units themselves have excellent customisation features, including colours and sizes, meaning they can fit in comfortably with your current bathroom design. Storage space within the Legato collection has been cleverly calculated to offer you the most possible without interfering with the integrity of the design.
Less Is More
The Legato Collection stands out from the crowd for a number of reasons; its elegant contours and the timeless sophistication of the design provide an aesthetically pleasing appearance whilst maintaining a straightforward outline and excellent functionality. This alone makes the Legato collection extremely desirable for those seeking a simple, yet luxurious finish.